| | |
| --- | --- |
| | Lambeth Walks |
Saturday 10/01/2004 22:32
Out on the usual train, after a surprisingly poor night of sleep. Dozed quite a bit on the way. Circle to Kings Cross then a wander down the Fleet Valley to Exmouth Market and finally to the Family Records Centre. Soon got the hang of the records - partly by watching the clearly experienced and rather efficient family history buffs working quickly and steadily through lists of names and dates. Spent a fruitful couple of hours manhandling registers before ordering some certificates.
Coffee, and a wander through Clerkenwell before travelling to Clapham High Street via an overcomplicated but interesting series of short train journeys and a walk through Ruskin Park.
Long wander to some William Kent related sites in Lambeth, collecting photographs as I went. From Union Road and Larkhall Lane, via Wandsworth Road, Wheatsheaf Hall and Tradescant Road. Finally to Meadow Lane and The Oval and back to Waterloo.
Waterloo & City to Bank, then some happy but random City of London wanderings - taking pictures in steadily darkening conditions which have not produced great results. I might just attach one or two here.
A pleasant day - accomplished quite a bit, and revisited some railways I'd not seen for a long time.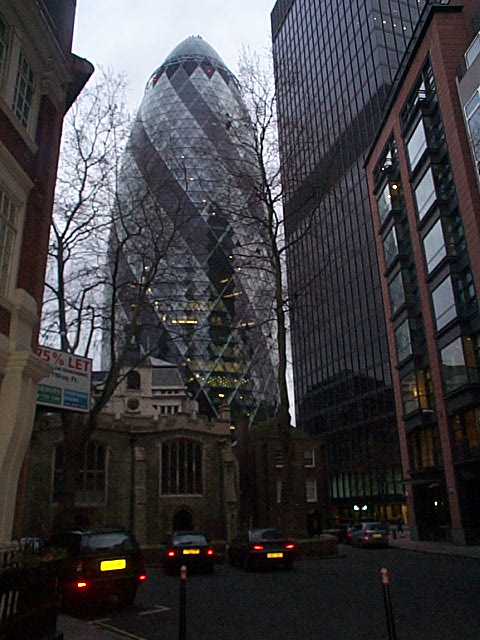 30 St. Mary Axe towers over St. Helen's Church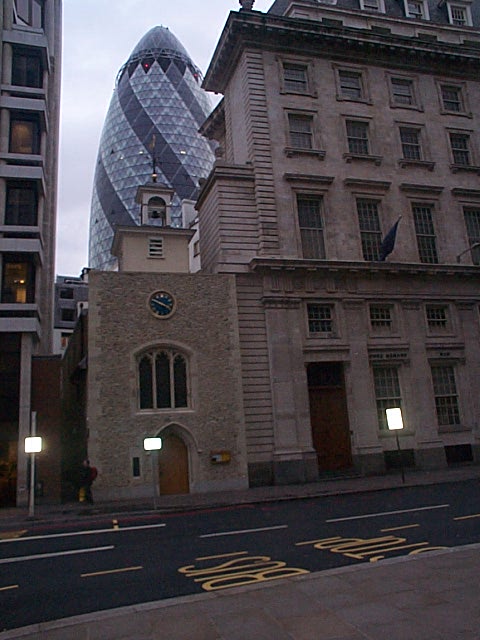 ...and tiny St. Ethelburga's