Posted in London on Saturday 26th May 2012 at 10:05pm
---
Just now, the whole world seems to be on pause. Events are grinding to a halt to accommodate the twin national patriotic rallying points of the Diamond Jubilee, and more disruptively the 2012 Olympiad. I've written copiously about this, fact and fiction, and I risk painting myself as an obsessive if I'm not careful. Already, it's assumed by many that I'm nothing more than a disciple of Iain Sinclair who can't form my own opinions on the issues as I'm not resident in those distressed eastern environs. Well, much as I admire Sinclair's stance and very much love the way he expresses it, my own view has been formed by passing through the site over the six years since work began, watching it change in character and tone - and most alarmingly in it's loss of the sense of being a public wilderness. But I've never quite dared to walk the waterways myself - afraid of bumping into others like me who are compelled to visit despite doubting the wisdom. I realised though that time was running out. And so, I had to act.
The stars aligned when the London Topographical Society published a walk around the park. By the time their twice-annual journal landed the walk was dangerously out of date, but with a day in London and only the loosest plans I decided to tackle it in preference to other less pressing treks. It was, by far, the hottest day of the year - and perhaps for many years - as I stepped out of the train at Paddington. I breakfasted at leisure and took the 205 bus to Bow Road, a long and sluggish, but as ever interesting transit from suburb to suburb avoiding the city's core. Here I decided to use the Underground for the last leg to Bromley-by-Bow, just to avoid too much diversion before the walk began in earnest - and because there was a sense of purity beginning the walk by popping out of the ground rather than seeing the landmarks of the Olympic Park arise gradually. I surfaced again beside the Blackwall Tunnel Approach Road. Passing under, and calling briefly into Tesco for water, I found myself giving to the local foodbank too. It felt right to pay tribute to those struggling in this hostile environment before setting off into Three Mills Lane. This triangle of reclaimed land between Bow Creek and the Prescott Channel is now far from the run-down, dereliction it once was - as it's home to a large complex of film and TV studios occupying two of the former mills, with a great deal done to preserve the character of the area. Crossing the Creek, I noted a tour group huddled around "Tony", their guide. He'd been outside Tesco earlier, holding up a sign saying "2012 Official Tour" and had looked quizically at me, obviously guessing I was a tourist of sorts. Now he was explaining the significance of the area's waterways, linking it back to the Olympics. The group, mostly non-British were a mix of experience-seeking adults and their teenage offspring who looked by turns bored and confused. I pressed on to Three Mills Green. Immaculately manicured, and a rather pleasant spot to absorb the sunshine, as a few locals lolled around on the grass never slow to take the opportunity for a free tan. I walked to the eastern edge of the green to gain a view of Abbey Mills Pumping Station across the tangle of allotments, and the new lock installed to allow building materials reach the Olympics by water. It was in the process of building this that lumps of the Doric Arch from pre-electrification Euston were dredged up, and now sit in storage somewhere awaiting the next development opportunity there. Edging around the park I noticed the tour group again, perched on the rather impressive polished concrete ping pong tables. Lingering in the sun to let them pass, I encountered them again near the Three Mills Wall River as Tony rattled off significant dates in Olympic History. He broke off briefly to ask if I was "trying to get a free tour or something?". I showed him what I was doing, and told him my own history as a guide of walks, and he seemed more relaxed and chatty. He talked about how business was good, how he could do seven or eight of these trips each day if pushed, and how he'd considered charging £20.12 for the walk - but "couldn't carry all that facking change about". He said I wouldn't be able to follow the planned route and "I'd see why" before returning to his group and saying "I can't get you into the Olympic Park - no-one can - but I can tell you about what we can see, and what you can't". On this metaphysical point, I left him to it. Veering onto the tight towpath I headed onwards passing a 'phone mast disguised as a giant Olympic torch as I emerged on the busy strip of Stratford High Street. Passing cars kicked up clouds of building dust, and my nostrils complained bitterly at the assault. I was sick, but determined not to let a summer cold stop this final walk before the games began.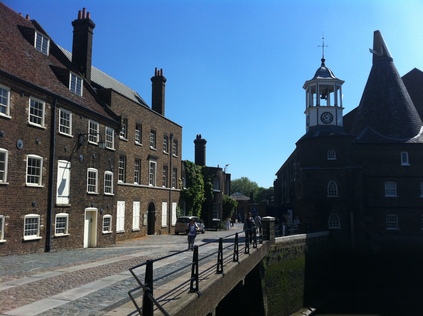 The tangle of navigable waterways here was once a necessity due to the congestion and the politics of using the various routes. A price war between canal owners led to these channels becoming part of the vast canal network, and because of this they remain in the ownership of British Waterways. Here, my aim was to use the towpath of another stretch of waterway, the Bow Back River, to reach the Greenway. I crossed the High Street at the lights. Nearby a new bridge, apparently temporary, had been constructed to carry this footway over the road to cope with large Olympic crowds. How many would realise that their walking route was in fact a large, Victorian sewer I wondered? Turning west, I passed City Mill Lock and the river of the same name coming in from the northeast, before surfacing on Marshgate Lane. Here I was due to head up Pudding Mill Lane, beside the now beleaguered DLR station, and to ascend onto the Greenway. However, this was out of the question - Tony had been right. As I poked around trying to figure out the best way to go, a security car drew alongside me and three bored but edgy looking men clambered out. "Path's closed unless you want the DLR" he offered. I replied I was after the Greenway. "Why?" he asked "Been closed for months now. You can't get up there until after the games". The Greenway has been used a means of viewing the park since the build began, even playing host to a dedicated viewing position called View Tube and an associated cafe. Now, in the distance I could see it - a high-fenced channel running through the site like a bristling, protective spine, parts of it due to provide public access to the games while others apparently served as a sort of linear sentry emplacement for the security services. As I wandered off he called after me "No pictures, we know you've been taking pictures and you can't. Not here. It's illegal". I didn't turn back to argue the point. I got the sense that in training these people to protect this national spectacle, they've been told to expect something to happen. Every interaction, every encounter could be that event - and they are hyper-sensitised to it's potentiality. In short, these men felt dangerous to be around.
The official diversion signs took me back to the main road, and almost to the throat of the treacherous Bow Interchange which continues to claim the lives of hapless cyclists despite being part of Boris' Cycle Superhighway. Just before I arrived at the dusty concrete wilderness, a bridge and a stair dropped down to the path beside the River Lee Navigation. I gladly followed it into the cool green tunnel. Walking north, the high fence of the park with its razor wire and frequent CCTV points soon came alongside. Accesses from the towpath were discretely but absolutely closed, booms and anchor points ready to close the river to boats and this main towpath to feet and cycles as soon as the event begins. I felt unwanted - and I felt like I was being watched once again, shrugging off the suspicion as irrational but never quite escaping the sensation. However, there were lots of us walking - and there was an unspoken code of nodding or just exchanging morning greetings. Cyclists mostly rang their bells to warn of their passage too. A gently defiant population using the route, adapting to diversions, refusing to be excluded from their wilderness - and as I began to enjoy the walk despite the dust and heat, my wilderness too. We were trapped in a channel, an oddly idyllic single approved pathway through the chaos of the unfinished park above. As adjoining streams came in, I noted their walkways blocked by the last vestiges of the blue wooden fence that once demarcated the whole site before the security fence came. Little bits of ODA history, a history of corruption and displacement, preserved down here where no-one will look.
Continuing north, I came to a spot where two huge pipes leapt over the river, and a substantial bridge crossed. It was clearly marked "Northern Outfall Sewer" and a sense of frustration briefly surfaced that I should be above this spot. The path zig-zagging up to the Greenway was closed, mesh gates and razor wire installed - a huge hospitality zone was being formed above from solid plastic mock-pagodas. But I realised if I had made that direct, diagonal swipe across the park I would have missed this walk through a geography I'd only seen from the railway above. I'd passed on foot the same cement works and sidings which were a tantalising glimpse of what might have been covered on railtours past. Continuing, the river opened out into a junction, with the other route closed by more blue signs. This river, from consulting the map, is the one which carves into the park behind the stadium, creating the Olympic Island and dividing the public areas from the Athlete's Village and other prosaic service sectors. Unsurprisingly, it's now entirely impassible, and I found myself instead crossing a narrow bridge to reach Old Ford Lock. Sitting on the edge of the lock apparatus for a much needed drink, I spotted a familiar sight through a fence. Now a private house, but unmistakable, was the former home of the Big Breakfast TV show. Beyond it, towering above a line of trees was the Olympic Stadium, looking more sinister than ever in this context. I turned and headed west. There was another security guard at the lock, less sure of himself on this non-Olympic property he just whispered into his radio and watched the procession of walkers and cyclists enjoying the weather.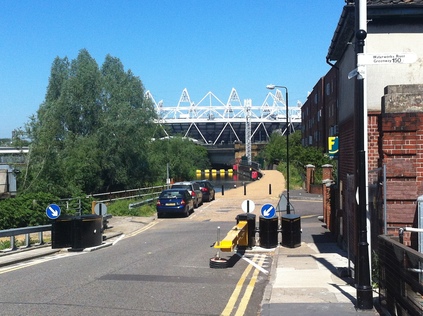 The next part of the walk took me onto Fish Island and into the depths of Hackney Wick. I'd skirted this area previously on an ill-fated dash to escape from Milton Keynes, inexplicably drawn to it but also rather afraid of getting sucked into another desperate corner of London. As I plunged between former warehouses now become artist studios for the likes of Bridget Riley, I turned a corner and happened on a strange scene. On Dace Street, a glamourous but trouble-lined woman in an elegant evening dress was running a junk stall on the pavement, bohemian students picked over her wares and bargained over seventies crockery and oddly shaped lamps. Across the street in a reclaimed warehouse space a makeshift barbecue was cooking, with wonderful smells emerging. Another dilapidated warehouse block housed a cafe, offering ethically sourced goods and claiming to be London's finest. People milled around lazily. Despite being largely ignored I felt out of place in the urban oasis and swiftly passed by to reach the Hertford Union Canal via another footbridge. An ill-starred and little used stretch of water which never quite made the fortune it cost to dig, this cuts dead straight though Hackney Wick towards Victoria Park which was my final target. Having passed under the Blackwall Tunnel Approach Road once again, a little before the ramp up to Cadogan Terrace, I noticed a strange bridge abutment practically in the back garden of a house it seemed. On checking later, I realised that this was the route of the railway to Poplar, once a passenger route and then a busy freight line. It was lifted in the 1980s, isolated and unused beside the Eastern Cross Route, its stations long closed. Only a few years later, the DLR took over it's southern reaches, but then turned east via a new route to get to Pudding Mill Lane and Stratford. The imprint of the junction at the former Victoria Park station is still visible, with trains now shuttling between Richmond and Stratford, straddling the Westfield shopping empire completely. Suddenly all of my interests and curiosities were coming together strangely in this tiny patch of dwindling wilderness amongst the city.
I lingered for an hour in the park, watching the sunbathers, frisbee players and walkers pass by. Looking back, the stadium leered angrily over the houses and trees, seeming very close indeed. Just two years ago, it hadn't been nearly this omnipresent or oppressive, barely showing over the curtain of trees. I made my way to the bus stop, elated from completing my walk but troubled by some of what I'd encountered. Oddly, my instinct was to return to the rails and take the diverted train service which curved through the geography I'd just walked from above. As we crawled into Stratford station, and the curved platforms which take the line to Coppermill Junction, I looked down on the tow path and the cement works, and peered hard into the tangle of green which marked the line of the river. The trickle of walkers and cyclists continued, the sun beat down on the dusty path and there was a heat haze rising over the stadium. In the still chaotic spaces around the main venues, security Land Rovers ferried back and forth, men muttered into radios and eyed with suspicion people passing on their way to shop at Westfield. I probably had left this walk a little too late, but I couldn't imagine a better day to have done it.
You can see more pictures from the walk here. As an experiment, you can also follow the route on the map below - the blue line is the walking route, the red line the rail journey.
Movebook Link
---
Posted in Railways on Saturday 19th May 2012 at 10:27pm
---
Lately my wanderings have gained in importance once again due to frustrating and dull times at work, but have also decreased in imagination. Often, all I'm aiming for is journeys long enough to distract me - to see movement and feel distance pass by. As the schedule of engineering works and diversions slows to a crawl ahead of a summer of events, it's proving tricky even to find interesting diversions. So, I'm drawn repeatedly to London. I can easily spend hours doing nothing there and still feel part of something bigger than the rather tiny life I seemed to have got myself wedged into back home. There is also the sense of London being off-limits soon - the Jubilee and Olympics making an always chaotic city even more difficult to navigate, and the attempts to impose order no doubt creating an unpleasant edge. So perhaps I'm unconsciously cramming as many London trips as I possibly can into these few precious weeks of relative sanity?
This one was a little different - my drive to take long, relaxing trips had suggested the normal run out to Birmingham, which is generally a good start to the day. Noted the Phantom Seat-Stealer back on the train and wondered if I'd have a scrap for my booked seat at Temple Meads, but noted him still on the platform as we left, heading for Cardiff I suppose. Ruminated on how the railway led me to know all these people by association - but not to know much of their lives, or mostly even their names. The journey was quiet and uneventful - just what I needed it to be. Changing trains at New Street left me time enough for coffee and people-watching on the concourse. I hope this possibility is preserved when the station is refurbished, because it's become something I rather enjoy. This station always signified mystery and a long trip somewhere - but suffers of course from a rather grim experience at platform level. Even though being delayed here is an unwelcome proposition, I recall breaks in epic trips with some fondness. Down to the platform for the 10:13 service which was a little late in arriving. This led to a lot of people milling around asking about the unit that arrived. In particular, a group boarded first class a little in front of me - a sarcastic, sleepy man and two babbling women. They'd snapped up the cheap London Midland tickets eagerly enough but wanted the Virgin experience - Where were the people handing out refreshments? Why did it call at all those stations? Headphones in, for a snoozy but pleasant journey south along the WCML, as always enjoying the approaches to London particularly.
I wondered if I'd left long enough to switch trains in London, as this was to be quite a fleeting visit? Though a short journey to Marylebone it can be a slow and congested one - but in the event I was able to get a 205 and have a fairly smooth trip. Along the way I noted the Euston Road pubs were full of West Ham supporters. It was the Championship Playoff Final today, and I'd completely failed to notice this. It wouldn't interfere with my trip, as the Birmingham Snow Hill service I'd chosen didn't call at Wembley Stadium, but Marylebone itself was an interesting experience! Chiltern were running additional shuttles to the stadium which worked well, and the crowd were nothing if not good natured. They were very, very vocal however - and everytime the chanting, singing or shouting died down there would be a solitary, clipped and almost embarrassed rallying call of "Irons!" which would kick it all back into life. The police looked amused and unconcerned in the main but I was stopped by one and asked some questions about my business. He was polite and friendly, and seemed keen to talk so I explained I got stopped a lot and asked if he could tell me why? He told me the simple truth was that I appeared unusually confident and knowledgeable in the station. I knew where things were, didn't mill around in confusion like most passengers in the off-peak seem to. It was unusual enough to make him wonder what I was up to. I'm not sure I'm any happier with this explanation, and I told him that - but I suppose I can sort of see the logic.
Away on the 14:00 to Birmingham via the Chiltern Line, surrounded by a loud group who kept swapping seats and moving around. They were comprised of a couple of asian women and their children heading off to Bicester Village to shop. But they didn't know where to get off, and asked a pair of black guys sitting opposite them. The response was quite frankly racist - some of the worst and most open I've ever seen in public. They asked me and I set them right, but noted that they seemed used to the response which disappointed me. Otherwise the trip was quiet and pleasant, just like the last time I passed this way which was fairly recently in fact. This time I bailed at one of the through platforms at Moor Street, and spent an idle hour watching people and trains, particularly the new Class 172s, shuttling back and forth.
After another leisurely linger on the concourse at New Street, I took the usual 1V65 back to Bristol. As ever it was a quiet, pleasant run into the slowly setting sun - echoing trips of old. While waiting for 1C27 homewards at Bristol I figured that today had broken no new ground at all, but it had been just the tonic I needed.
Movebook Link
---
Posted in Railways on Saturday 12th May 2012 at 11:05pm
---
Considering how much I gripe about the line from Bristol to Southampton, I've found myself using it a fair amount again lately. It's mostly the huge potential for overcrowding on the service which means using it for my leisurely meanderings isn't always much fun - but also that interminably long, dull section between Warminster and Salisbury which is always a drag. I recall one of my earliest trips after returning to the rails went this way using a Replacement Bus service - and even that godforsaken mode of travel seemed preferable to this bit of the run. Considering how I love rail travel and promote it, I amuse myself by how outspoken I am about some dull lines - not least this and the truly dull Settle and Carlisle run which despite its scenery, is a long, slow drag. So it was strange to find myself willingly subjecting to this run a second time in a week!
But there was a purpose. In the absence of other goals, and with a freebie First Great Western ticket in hand, I decided to do a multi-modal skip across the South Coast, ending up in Brighton and getting the once much favoured 1V96 back. This meant an early start and a run up to Bristol for breakfast. Once again, despite having a while to wait around the station's Starbucks failed to open even at its much later advertised time. Settled for an alternative and boarded the 07:22 - about the only train on the Portsmouth Harbour route which doesn't get rammed here or at Bath. I managed to snooze for much of the less interesting bit of the run, waking in time to alight at Fareham. The weather had turned out to be really fantastic, and as I made the slow transit to the station bus stop under the subway, I enjoyed the sunshine. The aim here was the Eclipse service which uses a dedicated busway towards Gosport. This is significant because it occupies the former railway alignment into the town, and thus as soon as it opened my curiosity got the better of me. Tracing the route by map, there was a fair amount of evidence of its former status too. The bus when it arrived, was very impressive. Leather seats and a bright, clean interior. Destination displays and free onboard wi-fi completed the sense of a modern services. I found a seat and settled in for the run to journey's end at Gosport Ferry. Once off the main road we turned onto the busway. A two-lane carriageway which cut directly through the tangle of streets. No guideway like in Cambridge, and the route is shared with cyclists - and at least one errant or perhaps just truculent motorist too. However, speeds are reasonable and the stops were showing signs of reasonable use - even on a sleepy, warm Saturday morning. Suddenly just under the Tichborne Way bridge we slowed and took a sharp curve via the 'Tichborne Link' back to the conventional streets at Fareham Road. The way onward hinted at Phase 2 to be completed soon. Having tried this out, I think I'll come back too - because once back on the road network the advantages became starkly clear. The long-wheelbase buses struggling around parked cars, over traffic calming bumps and through endless traffic lights showing the huge advantages of the busway for this journey. However, the trip into town meant passing the strange naval forts and signs for the curiously named 'Explosion Museum'. Occasionally the route came tantalisingly close to the former rail route too as we wound through the suburbs. While a busway is definitely not my preferred option for these things, I have to say this works pretty well.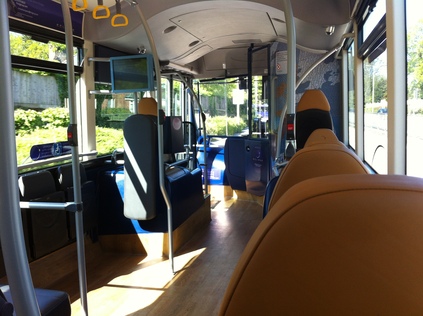 The centre of Gosport looked busy and prosperous despite some evidence of run down looking areas on the way into town, however today I stayed on to the rather 1970s vintage bus station and made the short walk to the Ferry terminal, buying a ticket from the man in a tiny booth with his old-fashioned dispenser. The ferry service is frequent and fairly keenly priced - and for these reasons appears well used. Queueing on the covered gangway, the ferry was expertly guided alongside and the gates opened allowing swift disembarking and boarding at opposite ends of the vessel. Given the sunshine, everyone dashed upstairs onto the open deck, but I found a window below in the curved bow and settled in for the short ten minute trip across to Portsmouth Harbour. It was quite an experience - as water travel always is these days - and one I'm glad I'd opted for. Arrival at the Harbour means only a short walk up to the station platforms too. I had some time here though, so I had a little lunch, watched the world go by and enjoyed the sunshine.
The next leg took me on one of Southern's very well used West Coastway services to Brighton. These get far too busy for my liking, and soon the train was fairly full. I also suffered the indignity of being asked to turn my music down on this leg of the trip - something I don't think has ever happened to me before. I felt rather sullen and pathetically wronged after this. Looking back I can chuckle - but at the time I felt surprisingly silly and down about it. I surprise myself with my oddness at times. Arriving at Brighton meant decanting a lot of people via the narrow Platform 1 and 2 island, then squashing around to the ticket gates. The Great Escape festival was on in town this weekend, using a range of local venues - and thus the station was incredibly busy. To speed things up, staff opened the gates and let us tumble through. I aimed straight for the exit, and some recommendations for shops I'd been offered - including the excellent Resident Music tucked away in The Laines. It was years since I'd wandered in Brighton, and it still had the slightly strange but very pleasant edge which I'd immediately liked on my early trips here. After browsing the friendly, and somewhat enlightened environs of Resident for a while, I decided on coffee and a chance to reflect. With Brighton delighting in lots of artisan type places, the large Starbucks I found was reasonably quiet and importantly nice and cool in the growing heat of the day.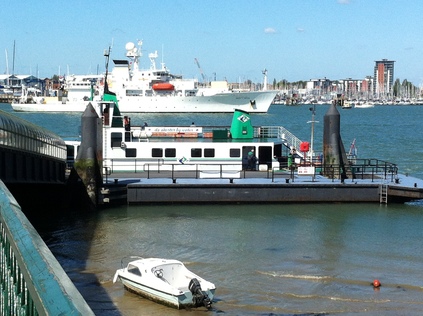 Having some time now, I decided to head for the Volks Electric Railway. I'd never made it to this tourist favourite before, and it was a fair walk - but not an unpleasant one milling among the festival crowds. On getting there, the queue for the tiny single-car trains was huge and I calculated I couldn't easily wait in the queue and safely make it back to my mainline train so after watching a departure, I resolved to revisit at a less touristy, sunny time and do the line. The walk back to the station was a hot, long and irritating slog through huge crowds. Once at the station I improvised a meal while listening to a band playing in a venue next door. No idea who it was, but they were pretty good. Finally over to Platform 2 to beat the crowds and wait for the First Great Western unit to be opened up. Some amusing scenes as a Southern unit occupied the end of the platform ahead of my train, and people debated the idea of front train, first train and 'First' train as written on the side of the unit. Did some impromptu directing, before getting a seat on the unit.
It was strange to be back on 1V96. I'd used this train once or twice to visit friends here many years back, and also when I returned to the rails and it was Class 31 hauled on Fridays. I recalled particularly the last ever 31 hauled diagram in December 2004, and realised with some horror just how long ago that was, and that it was probably the last time I'd spent more than a few minutes in Brighton! The run back was pleasant and lazy - with me feeling ultra paranoid about music volume. The train didn't get hugely busy, even at Southampton - a fact I filed away for future use. The guard was fine with my odd combination of tickets too, and I settled in for the long winding route back to Bath Spa. Changing here meant a short wait for 1C27 from Paddington, a frequently used train home which I could have picked up at Bristol as I often do. It was nice though to relax for the last leg. Amazingly my multi-modal run had gone very smoothly, and the bus and boat rides had impressed me hugely. It's days like these which restore faith in public transport along with being entertaining trips in their own right.
Movebook Link
---
Posted in Railways on Saturday 5th May 2012 at 11:20pm
---
I'm playing catch-up with these entries after a very strange and directionless few weeks where I've managed to think about doing lots and actually achieve very little. In the middle of this period came the welcome opportunity to get away and travel - always something I value, as much for the chance to observe the world at large as anything else. But this trip had a purpose too, which was this curious tour to points south. Completely illogically of course, I started out yesterday by heading in the opposite direction - north to Crewe. Class 20s aren't my favourite traction by any means, but they're unusual enough to warrant a bit of a trip to get some mileage with them - especially as you have to wonder just how long they can carry on hauling trains like this on the mainline. A fitful night and an early start made for a rather bleary-eyed walk to the station where I met familiar faces including my travelling companion for the day. In fact, the tables we occupied became a pretty sociable little knot in the middle of a rather quiet carriage, which is always a good thing in my book.
Despite predictions of failure or non-availability the pair of 20s, one required and one not, turned up on time and shot away from Crewe in surprisingly rocket-like fashion. We sped south taking a route skirting the Midlands to join the route to Banbury and Oxford. I've used this route surprisingly often this year, having not needed to in recent times - and I'm always impressed by how quietly but surely, Chiltern Trains have delivered on their Project Evergreen promises - faster alignments, restrictions eliminated - little improvements that sum up to a better experience all round. At Aynho Junction we headed for Didcot, and the Foxhall curve onto the mainline. There had been two separate foul-ups on the Great Western this morning - one around Paddington and the other in South Wales - which meant some of the participants who were due on the train were behind schedule. Given some space due to gaps in service, we were unusually allowed to wait a while, and a rammed Gloucester-Swindon unit and a busy HST soon turned up with the missing folks. We headed off again, via Thingley Junction to the rarely used Melksham route and onto the Portsmouth line. Here, my usual ennui descended and I dozed and chatted as far as Southampton Maritime. I also realised I'd rather strangely chosen to replicate this route next week too!
Arrival in Hampshire meant we'd reached the focus of the tour - a little but significant crop of very unusual lines around the county, starting with a call at Eastleigh to let off passengers who wanted a short break. Out of the station northwards and onto the Romsey branch where we reversed at a signal, and headed back through the station non-stop with the trailing 37 in the lead now, and into Eastleigh Works. I'd been here before, but we used a different line - one that disappointingly had a fair amount of former Metropolitan Line stock stored on it - although to be honest they all did at present! This meant many people didn't get far past the gates, but the First Class end was well positioned and the usual tide of 'vestibule creamers' made their showing as we came to a halt. The original plan had been a traversal of the depot loop which hadn't been possible in the end. I was lucky enough to have done this too, so it wasn't a great loss - but it did mean we ended up with a fair number of very odd reversals here - which began to take their toll on people's sanity! So our next reversal took us back through the station with the aim of halting at Allbrook Junction. In the event, we ended up back on the Romsey branch. This is where things got a little hazy and the driver seemed to lose track. Returning to the station we were signalled onto the Down Through line, leaving a large group of bewildered patrons stranded on the platform. Coming to a shuddering halt short of Southampton Airport Parkway, we eventually headed back into the platform, collected our punters and continued towards Southampton. A very odd and slightly amusing interlude!
Underway again, rather than taking the severe curve towards Southampton Central we continued straight past Northam Traincare and onto the docks branch. This more direct route served an impressive terminus at one point, the rather grand buildings of which remained evident. Passing multi-storey storage areas for the motor industry, row after row of Minis and Landrovers were evident. Also in dock was the vast Queen Victoria, a huge and impressive sight beside the line. Pressing on and winding through the Eastern Docks, we finally came to the QEII landing stage. I'd been here before - on foot from Southampton after an edgy night in a B&B miles from town - or so it seemed. That time, I was meeting people arriving by boat to live here. Today, I was just passing through as we pressed on to the very end of the line. An excellent result, though we were urged not to get out because the fee for 'use of the station' was huge!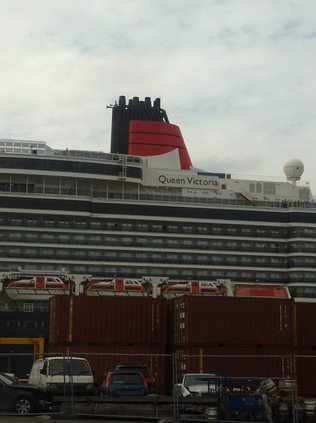 Reversing again after a very efficient change of ends, we headed back to Northam Traincare, using the Reception Line there to reverse once again and head through Southampton Central to reach the gates of Western Docks. This shorter branch led through a more industrial scene, curving away from the mainline and through piles of sand and building materials to double back towards the point we'd reached on the Eastern Dock branch. There had been a through connection at some point, but this had long since gone and we soon found our way to the end of the short branch, again reaching the furthest possible point. It had been a very successful day from a track bashing point of view - and being at the right end of the train for the branches was a very welcome change!
The return trip wasn't without incident either. Firstly we headed towards Guildford using the rather dull line via Petersfield. This was a sleepy bit of the journey with little happening, although it was interesting to watch how we made up and then lost time. We weren't seriously late though, and I was content to laze my way along the line. Getting lost in the tangle of lines around Ascot, we were due to pause at Ash Vale - ostensibly for a photo stop on an otherwise long day on the train. This stop was curtailed to keep us on time, and de-training via the front four coaches would have meant it was unlikely we'd manage even to get off in the time allowed! From here we took the route to Reading, using the connection which climbs from the Southern tracks to the Great Western mainline - something I don't recall doing before. Work on reviving the underpass which will allow trains to reach the other side of the revitalised station seemed to be progressing very well too - and I wondered if we'd have used that route if it had been available? Our first set-down was at Didcot, in lieu of Swindon on the outward run. Except we didn't stop. Taking the curve through the station at speed, once again a number of passengers looking rather stunned as the platforms zoomed by. Those poor Swindon punters who'd been inconvenienced by the early issues were once again the victims as we made a call at Oxford for them to alight and head back to Didcot.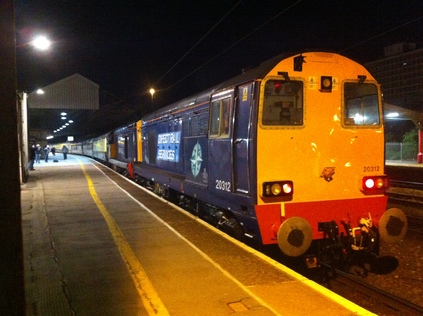 The run back to Crewe was quiet and pleasant in the summery evening, and was only marred by the activities of a couple of BLS people who I probably shouldn't name, working the train and stirring up feelings against a former colleague. If nothing else, this solidified my resolve that resigning from the News Team had been the right thing to do. Otherwise it had been a successful, sociable and interesting day. There are so few good tours operating this summer that these days are increasingly precious and important.
Movebook Link
---